Dandelion Forest Farm is an agroforestry farm started by a chef, a farmer, & a scientist on a mission to figure out a better way to grow & eat food.
Our main focus is on edible perennial plants that naturally grow well in the northeast- like chestnuts, elderberries, lavender, & pawpaws to name a few.
Then we take these ingredients into the kitchen & concoct a myriad of delightful things for you to enjoy (like fermented hot sauces, infused herbal syrups, wildcrafted vinegars, & seasoning blends).
Our fields may look a little different than other farms. Things are not in straight rows, there isn't a tractor, we don't believe in weeds, & the soil is always covered by mulch or plants.
We hope to inspire you to grow food a little differently too!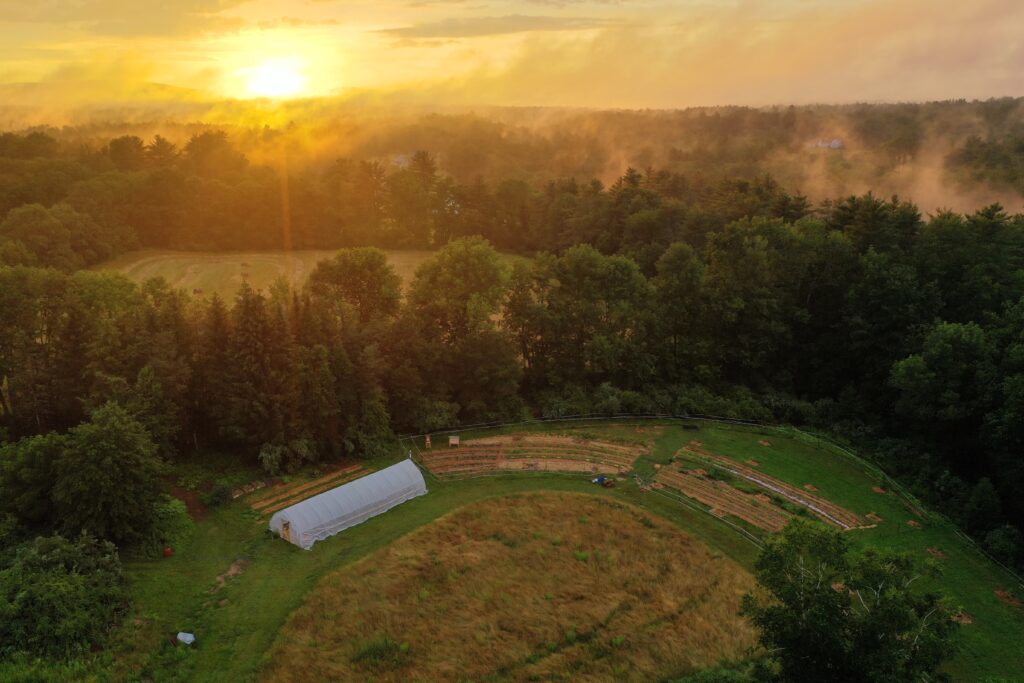 How We Got Here
We found our way from Boston, MA to Nottingham, NH in April 2022 through the land conservation group Southeast Land Trust. The previous owners Rhoda & Stephen built their home here 40+ years ago and have now passed the baton onto us to steward this beautiful 31 acre property. You can read more about that here. So after years of searching and a year-long farm lease, we have a safe home for our trees to live on well beyond our lifetime. We've read about a chestnut tree in Italy that is 4,000 years old! So putting a little chestnut in the ground sounds like a pretty worthwhile investment.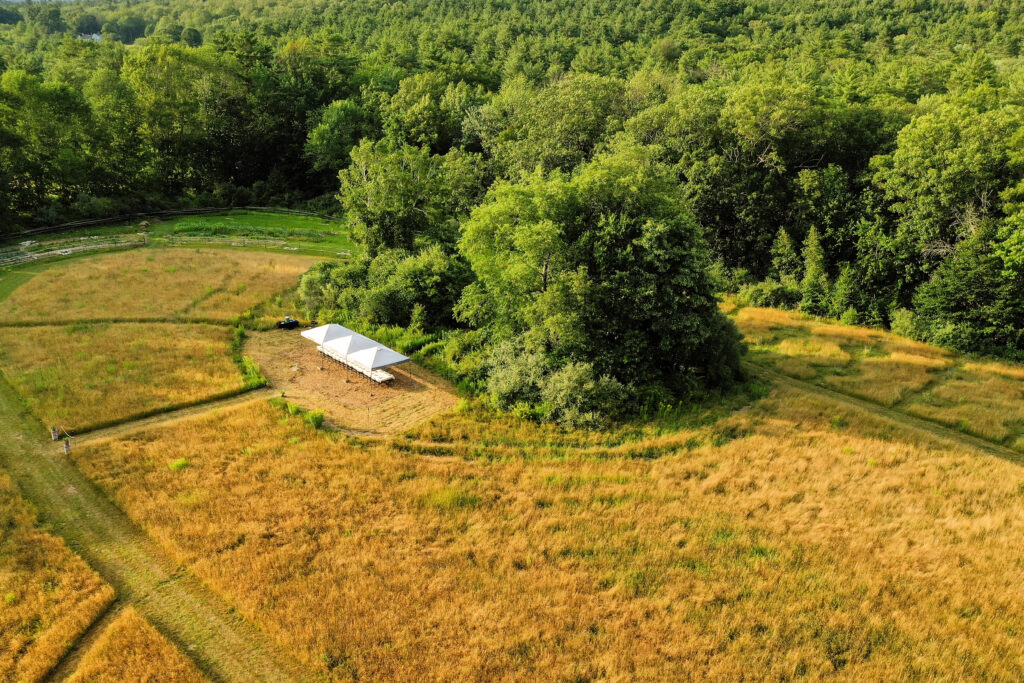 Current Season (not currant season)
With help from some friends, we planted 100 chestnut trees of assorted American/Japanese/Chinese genetic crosses (non-GMO). It's going to take a while for those chestnuts to grow up so in the meantime, we are growing ¼ acre of vegetables & herbs in between the young trees in a wonderfully intuitive practice called alley cropping. We also built a 50′ hoophouse to extend the season on tomatoes, several basil varieties, Korean melons, cucumber, ginger & turmeric.
Oh and we also added two beehives & 33 chicks (an assorted surprise box from Alchemist Farm). The chickies will move into the hoophouse for the winter. Garlic & cover crops will be planted into our existing annual beds. And we will continue adding new garden beds by literally just putting cardboard on top of existing lawn & adding with wood chips to smother out the grass. In the spring of 2023, we should be ready to plant our season-long PYO fruit & berry orchard along with asparagus & lavender. Perhaps we'll also pick up a pack of alpacas or a family dairy cow. We'll see how ambitious we feel.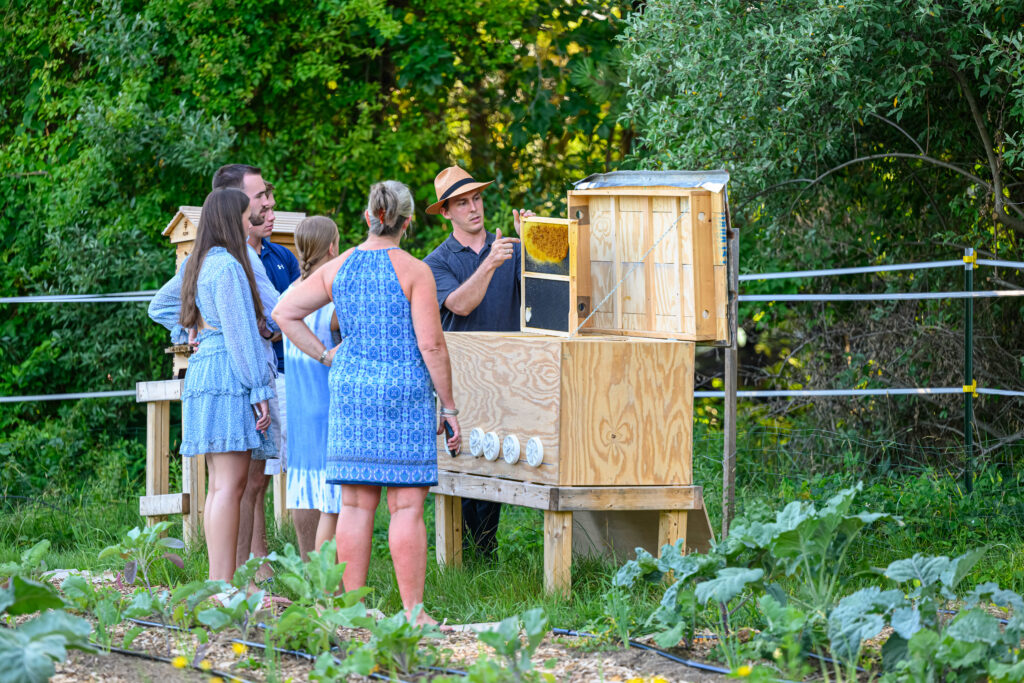 Growing Practices
Our growing practices are inspired by permaculture, biodynamics, agroforestry & Korean natural farming. Mostly, the book One Straw Revolution by Masonobu Fukuoka kicked off a rabbit hole of research during 2020 Covid into the world of regenerative farming practices. Chelsea Green Publishing & YouTube have been great resources.
The common denominator has always been biodiversity & ecosystem health. So you won't find any harmful chemicals here like fungicides, insecticides, or herbicides. Instead, we have an abundance of pollinator favorite flowers, companion planted herbs, an array of wild birds & now some cute chickens to assist with bug control as needed.
Every season is always a bit different so generally we find growing a variety of plants means some will thrive and some will just not reach their full potential and that is just fine. Plus our working theory is that healthy soil means healthy plants who can do their own fighting against pests & disease.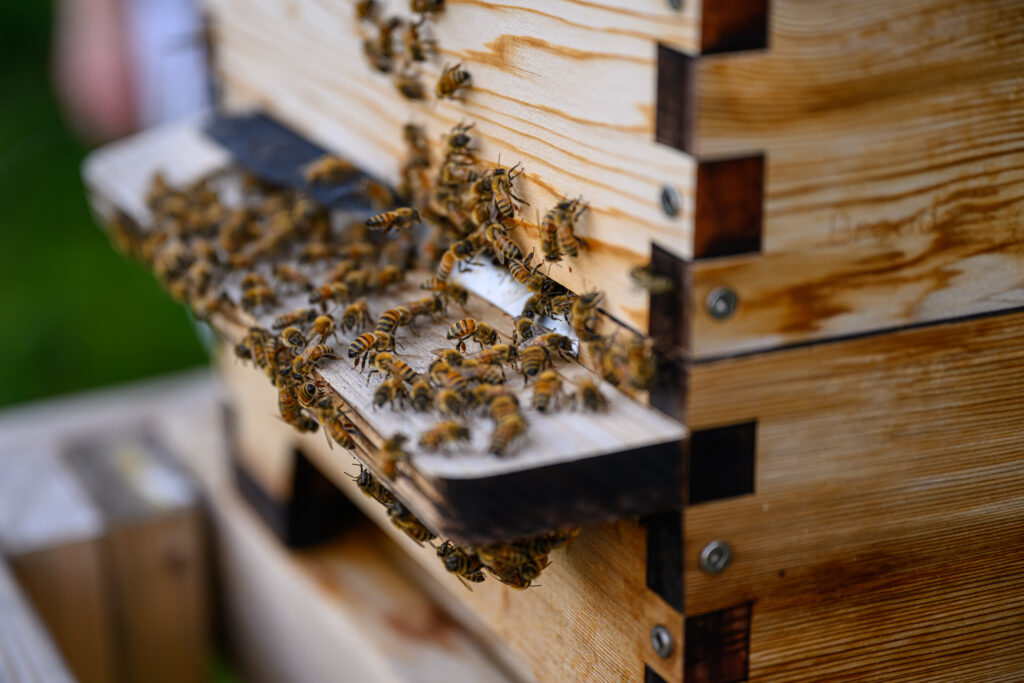 Why Dandelion?
Since we all know how well dandelions grow, how great would it be to be a dandelion farmer? You laugh & tell us we are welcome to come take the dandelions out of your lawns…SO WE WILL (not really but you should eat them). Dandelion roots are roasted for tea, leaves are great in salads, & flowers make great wine.
So…what else grows like dandelions? What else thrives with minimal care? These the questions we will continue to ask ourselves as we explore a multitude of plants. If they don't grow super easily, let's move onto something else.
A fun way to find out what grows well in your area is to put the PictureThis app on your phone and go for a walk. Check out what's growing in the sidewalk cracks and on the edges of your parks and forests. Then Google to find out if they are edible.
For us in the NH seacoast, that looks like shagbark hickory trees, elderberries, nannyberries, spruce, pine, purslane, plantain greens, huckleberries, you get the idea. So that's our plan, we'll grow the plants that thrive under almost no care which mostly means they will be perennial plants (plant them once), climate tolerant, & will need little input from us.
That allows us time to play with them in the kitchen to unlock their culinary deliciousness & to then share it with you all.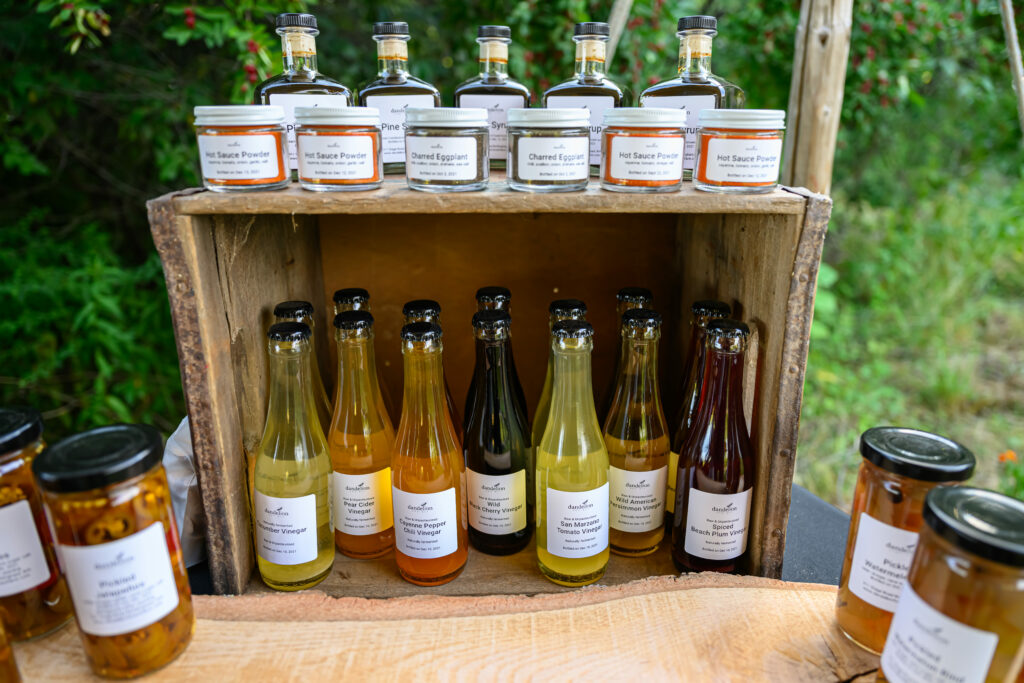 Sound Good? Find Out More!
Follow along on Instagram/Facebook @dandelionforestfarm
Shop our store! (ships to 48 U.S. states or pick-up at the farm stand)
Visit our farm stand open daily April-October 7am-7pm, honor system (cash/Venmo), 311 Stage Rd. Nottingham NH 03290
Write to us:

[email protected]